Alpha Freezz
Premium Frozen Yogurt Mixes
Alpha Freezz products are made in the USA, we offer several high quality products available for purchase at our site.
Our Alpha Freezz base frozen yogurt powder mix products come's in 24lb cases,this make 16 gallons of finished product. You can also buy our 6lb bag for testing product or for use at home.
Alpha Freezz mix's work in ALL soft serve machine's, they even work in home machine's. Our Alpha Freezz frozen yogurt base mix's are mixed with half water, half skim milk or all skim milk, we also use real non fat plain yogurt w/ our mix.
Non-fat plain yogurt ensures the highest amount of live and active cultures. Alpha freezz base mix's include regular vanilla, no-sugar vanilla,chocolate and original "Freezzberry" tart. Our base mix's can be used alone or with any of our flavorings or natural fruit puree's (please see our flavorings and fruit puree category) to make any flavor you wish.
We also have Alpha Freezz ice cream base powder mixes,these mixes are available in vanilla and chocolate flavors.
Our ice cream mixes are mixed with whole milk and can also be mixed with any of our flavorings and natural fruit puree's. They work in ALL soft serve machine's or any batch freezer for scoop ice cream.
Product Images
States Served
Alabama, Alaska, Arizona, Arkansas, California, Colorado, Connecticut, Delaware, Florida, Georgia, Hawaii, Idaho, Illinois, Indiana, Iowa, Kansas, Kentucky, Louisiana, Maine, Maryland, Massachusetts, Michigan, Minnesota, Mississippi, Missouri, Montana, Nebraska, Nevada, New Hampshire, New Jersey, New Mexico, New York, North Carolina, North Dakota, Ohio, Oklahoma, Oregon, Pennsylvania, Rhode Island, South Carolina, South Dakota, Tennessee, Texas, Utah, Vermont, Virginia, Washington, West Virginia, Wisconsin, Wyoming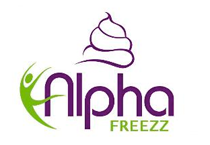 Call For Quote:
(704) 274-3114