Customizing the Texture and Flavor of Your Yogurt Mix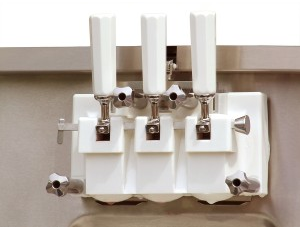 One of the best things about yogurt mix is that it is so versatile. Depending on how much milk, cream or water you add, you can change the consistency of the yogurt.
The key to changing the consistency has to do with how much of another substance you use to displace the water that you were using to mix it up in the first place. For instance mixing the powder with half cream and half water is going to make a thicker more luscious yogurt than one that is made with half skim milk and half water.
For a low-calorie treat you might consider mixing the yogurt mix with a juice or even a frozen juice concentrate. The more you add to the mix, the stronger the flavor will be. For instance you could easily make a pink lemonade flavored yogurt by adding a can of frozen concentrate to your yogurt mix or mixing up some lemonade and then adding it to the mix.
Another tact is to mix frozen or thawed fruit puree right into the mix. This makes for a very fruity yogurt with the consistency of real ice cream.
Any type of fruit or spice can also be ground up and added to the mix including blueberries, pineapples, strawberries, bananas, cherries — you name it can be added to the yogurt mix.
Some gourmet-minded vendors make savory frozen yogurt treats as well adding flavors like Salsa or dill and cucumber to their mix for a cooling, unusual summer treat. Â As you can see, there are many ways to customize the flavor of your yogurt mix!

Get a Free Quote For Yogurt Mix, Great Flavors and Low Shipping Costs
All products are proudly made in the USA and shippable to a large number of international countries. All vendors are very well versed at shipping internationally and can help you.