How Often do Frozen Yogurt Machines Need to be Cleaned?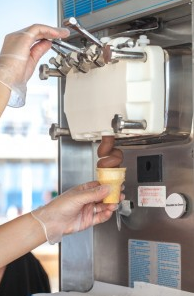 A lot of frozen yogurt shops often wonder how often they need to clean their frozen yogurt machines, especially when they are running a self-serve shop with 5-8 machines. While some manuals or health inspectors may recommend cleaning them daily, this is not necessary.
Cleaning your frozen yogurt machines daily can be time consuming as well as very costly. In fact, it's unnecessary because it takes over 7 days for the yogurt cultures to begin to grow new bacteria.
To save time and money, while being mindful of health conditions, it is best to clean yogurt machines every 5-7 days. This will ensure the cleanliness of your machines and quality of your product while also not overspending on costs and labor.
If you are looking to purchase a frozen yogurt machine, and would like to receive more information, please click here to learn more.

Get a Free Quote For Yogurt Mix, Great Flavors and Low Shipping Costs
All products are proudly made in the USA and shippable to a large number of international countries. All vendors are very well versed at shipping internationally and can help you.