Interesting Frozen Yogurt Powder Base Types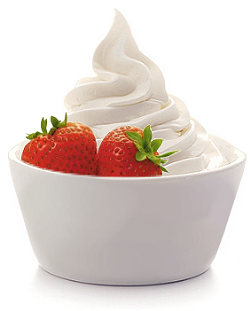 There are a number of different companies on the market that all sell different types of frozen yogurt powder bases. In fact, you will be amazed at the variations offered for what should seem to be a standardized foundation product.
Basically they fall into three categories: frozen yogurt mixes that taste tart, sweet yogurt mixes that taste more like ice cream, and frozen yogurt mixes that are mixed with vitamins, minerals and weight loss supplements.
The frozen yogurt powder that is right for you is the one that is going to be tailored to your customers. For instance if you are running a frozen yogurt shop next to a vegan restaurant and just across the street from a work out studio you might be better off to serve a vitamin enriched yogurt powder or one that is made from a tart tasting mix (which at the very least tastes healthier even if in actuality it is not!)
Examples of different types of yogurt mix base powders that you can order are —
· Lactose-intolerant
· Low fat
· Low calorie
· Tart flavored
· Vitamin enriched
· Probiotic enriched (probiotics are enzymes for digestion)
· Ice- cream flavored
· Sucralose flavored
· European Soft Serve (which is very tart)
· Kosher Flavored
· Greek Style (slightly heavy tart flavor)
These types of frozen yogurt powder are also sometimes called premixes and serve as the base for what you need to use to be completely creative and create your own flavor and texture that can be branded to your business.

Get a Free Quote For Yogurt Mix, Great Flavors and Low Shipping Costs
All products are proudly made in the USA and shippable to a large number of international countries. All vendors are very well versed at shipping internationally and can help you.